---
Decorative Arts
A collection of nearly 400 objects of art and decoration where the emphasis is on 18th century French furniture and sculpture, from the Middle Ages to Baroque art.
The decorative arts collection is today comprised of over 400 objects, realized between the 12th and 18th centuries. Focused primarily on European creation, the Collection illustrates the wealth of the artistic and cultural exchanges between France and neighbouring countries.
Christian and antique subjects
Welcoming any work intended to be part of a decorative setting, the Collection consists mainly of sculptures, from ornamental statuettes to architectural reliefs. Ivories, small bronzes, altarpieces and statues in stone or wood, featuring Christian or classical iconography: Virgins and Child, the figures of saints, scenes from the Old and New Testaments, alongside allegories, heroes and ancient gods, from the Gothic to the Rococo style. In addition to the canonical representations, the Collection also features some more unusual sculptures, such as a Saint Catherine of Alexandria1 in limestone, whose delicate face is framed by long wavy hair, and whose costume is richly embellished with pearls and embroidery, reflecting the luxury of the bourgeoisie of the Champagne region of France at the beginning of the 16th century.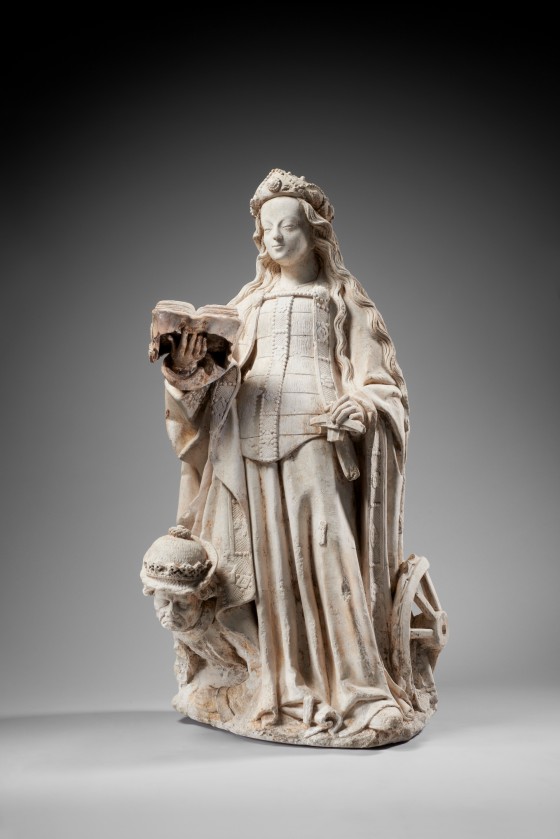 Saint Catherine of Alexandria
Happiness-day "to the cranes"
Art de vivre and technical expertise
There is also an impressive ensemble of furniture and art objects, which, through the luxury of their materials and the quality of their execution, are a reflection of the lifestyle of the cultivated upper classes of the time and a testimony of the remarkable skills of the artisans who made them. Marquetry in wood, tortoiseshell, mother-of-pearl and gemstones; lacquered items and porcelain from the Far East; enamels, majolica (painted pottery) and gilded bronzes were set together in combinations that were perpetually reinvented. A small writing desk2 by Daniel Deloose, created circa 1785, combines the graphic delicacy of a satin and amaranth veneer and the subtlety of the bronze ornamentation with the refined exoticism of Japanese lacquer panels. The multiplicity of drawers and hiding places concealed under the flap reflects the private sphere in which this item of furniture might have been found: it was more than likely reserved for a feminine universe.
Science and decor
A smaller ensemble of approximately forty clocks, made between the Renaissance and the Age of Enlightenment, perfectly demonstrates the marriage between the mastery of scientific measuring instruments and the creativity of decorative motifs of mythological and/or exotic inspiration. Finally, some tapestries and an exceptional set of liturgical vestments in silk, gold and silver evoke the splendours of the art of weavers and embroiderers.
Cartel "à la Minerve"
Aesthetic seduction, technical excellence and historical interest are the three criteria that preside over, and guide the ongoing development of this Collection.