---
Since 2011, the Fondation Gandur pour l'Art lends its works to the most prestigious institutions in the museum world so that they can be discovered by as many people as possible : from the Juan March Foundation in Madrid to the Hermitage in Lausanne, from the Guggenheim Museum in Bilbao to the Musée d'Art moderne de la Ville de Paris.
The Foundation wished to briefly retrace the purpose of the exhibitions for which it has lent works. These texts are largely inspired and drawn from the sites relating to the exhibitions of the borrowing institutions, for which they are thanked here. 
The Foundation is pleased to be able to contribute to the influence of the artists and the different cultures exhibited through these loans.
---
Mémorial de Caen, Caen, France 23 June 2023 - 31 December 2023
Années pop, années choc
1960-1975
The Fondation Gandur pour l'Art and the Mémorial de Caen announce "Années pop, années choc, 1960-1975", their second exhibition crossing art and history, opening on June 23 at the Memorial. The show will delve into social, political, and cultural protest movements in France from 1960 to 1975. It will present the figurative paintings of artists like Eduardo Arroyo, Erró, Gérard Fromanger, Eulàlia Grau, Ivan Messac et Bernard Rancillac, who brought a critical reflection on their time, from the Vietnam war in the aftermath of May 68.
Curators: Stéphane Grimaldi, Yan Schubert
---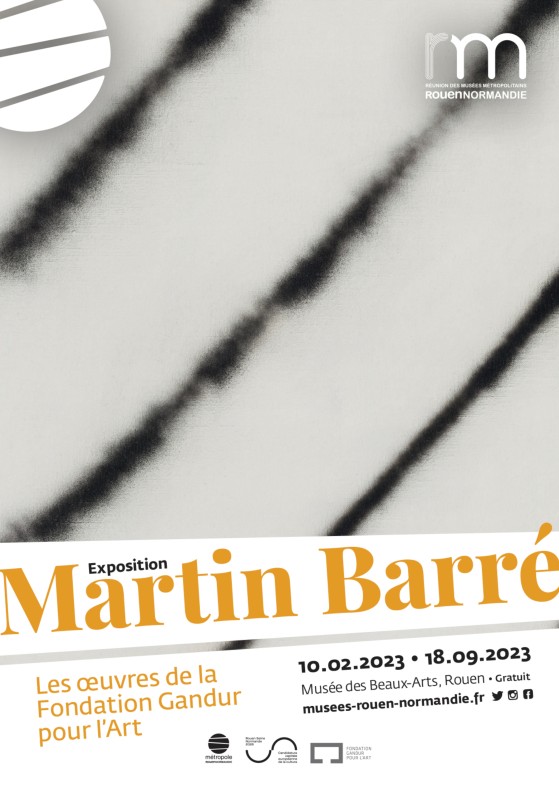 Musée des Beaux-Arts de Rouen 10 February 2023 - 18 September 2023
Martin Barré. Les œuvres de la Fondation Gandur pour l'Art
Following Simon Hantaï (2020) and Judit Reigl (2021), abstract painter Martin Barré takes the central stage of this third edition of the partnership between the Réunion des Musées Métropolitains and the Fondation Gandur pour l'Art. The exhibition "Martin Barré. Les oeuvres de la Fondation Gandur pour l'Art", presented at the Musée des Beaux-Arts de Rouen from February 10 to September 18, 2023, spotlights an artist now considered one of the most inventive in post-war European painting.

Curator: Bertrand Dumas
---
Past exhibitions