---
Since 2011, the Fondation Gandur pour l'Art lends its works to the most prestigious institutions in the museum world so that they can be discovered by as many people as possible : from the Juan March Foundation in Madrid to the Hermitage in Lausanne, from the Guggenheim Museum in Bilbao to the Musée d'Art moderne de la Ville de Paris.
The Foundation wished to briefly retrace the purpose of the exhibitions for which it has lent works. These texts are largely inspired and drawn from the sites relating to the exhibitions of the borrowing institutions, for which they are thanked here. 
The Foundation is pleased to be able to contribute to the influence of the artists and the different cultures exhibited through these loans.
---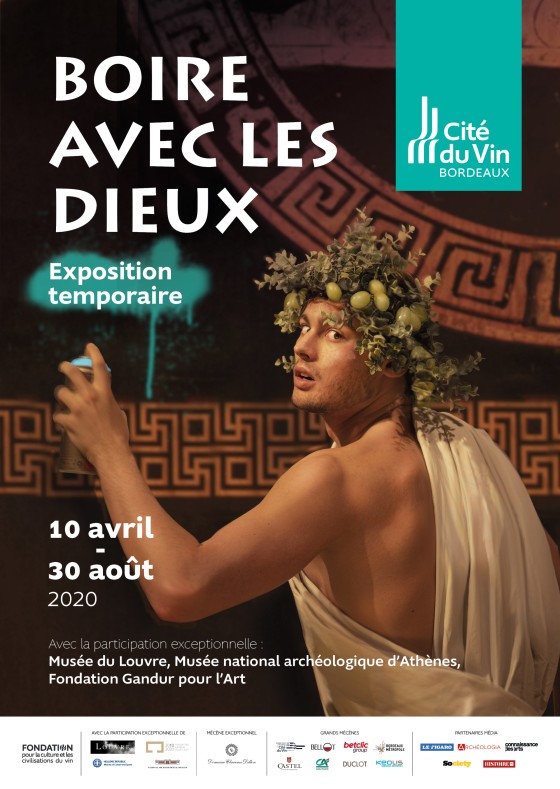 Cité du Vin, Bordeaux (FR) 10 April 2021 - 29 August 2021
Boire avec les dieux
Produced by the Foundation for Wine Culture and Civilisations alongside Jean-Yves Marin, and Isabelle Tassignon, exhibition curators, Drinking with the gods presents around sixty antique works and three monumental creations specially designed for the exhibition by street artists. Through a journey marked out by contemporary sound and visual effects, Drinking with the gods highlights the close ties established by Graeco-Roman civilisation between wine, gods and men and lets us discover the many faces of Dionysus, the chief god of wine - called Bacchus in Rome -, and the wealth of rituals associated with him.
Curators : Jean-Yves Marin et Isabelle Tassignon
---
2 March 2021 - 21 November 2021
Calder, Soulages, Vasarely… Abstractions plurielles1950-1980Collection de la Fondation Gandur pour l'Art
Summer break from June 27 to September 7
The years following the Second World War saw a great artistic effervescence. Paris regained its status as cultural capital and once again attracted painters from all over the world. The geometric trend, with its roots in the avant-gardes of the early twentieth century, experienced new developments. At the same time, an emerging generation of artists revolutionized abstract art by transcending gesture and material thanks to new techniques and tools, making it possible to rethink painting and its supports.
Curator : Yan Schubert
---
Forum Antique de Bavay, Bavay (FR) 4 February 2021 - 31 August 2021
Archaeonimals. Man and beast, a shared story
After the ArchéoLab at Pully and the Musée archéologique du Val d'Oise, the exhibition Archéonimaux reinvents itself at the Forum Antique de Bavay. It is aimed at a young audience, and addresses in a playful way the relationship between mankind and animals, through 5 challenges to solve and experience. The theme is illustrated by some forty original objects from the Antiquity representing animals, on loan from the archaeological collections of the Fondation Gandur pour l'Art; moreover, objects coming from the museums of northern France and Belgium have joined this little herd for the occasion.
---
Past exhibitions