---
Mémorial de Caen, Caen, France 22 June 2023 - 31 December 2023
Années pop, années choc
1960-1975
The Fondation Gandur pour l'Art and the Mémorial de Caen announce "Années pop, années choc, 1960-1975", their second exhibition crossing art and history, opening on June 22 at the Memorial. The show will delve into social, political, and cultural protest movements in France from 1960 to 1975. It will present the figurative paintings of artists like Eduardo Arroyo, Erró, Gérard Fromanger, Eulàlia Grau, Ivan Messac et Bernard Rancillac, who brought a critical reflection on their time, from the Vietnam war in the aftermath of May 68.
Curators: Stéphane Grimaldi, Yan Schubert
Built around artworks of the Fondation Gandur pour l'Art and collections of the Mémorial de Caen, this exhibition looks at the representation of history's onward march: that of the Vietnam war and the confrontation between blocs during the Cold War, of the late trials of Nazis in Germany, Franquism in power and the Chinese cultural revolution, but also the more social side of history, of May 1968, the struggles for equality among sexes and against racial segregation, that of urban transformation, mass consumption and tourism, all pivotal to Western history.
Besides objects drawn from the Mémorial de Caen's collection, the exhibition gathers 69 artworks from 26 French and European artists related to Narrative Figuration, a movement which developed in France concurrently to Pop Art in the English-speaking world. These artists used similar references from the movie industry, cartoons or advertising, while being more committed in opposition to the political, economic, and social hegemony of the United States. Whether they condemn American Imperialism, the period's dictators – in Spain, Portugal, Argentina, and Chile notably – or deplore rising nuclear threats in a moment where opposing blocs faced each other, these artists bring a critical eye to their time and the world around them. But they also support social and political movements in Europe in the aftermath of May 1968.
The exhibition unfolds in 10 thematic sections over two floors, which allows visitors to comprehend the upheavals that underlie this fifteen year-period.
An exhibition catalogue will be published, featuring all objects on show.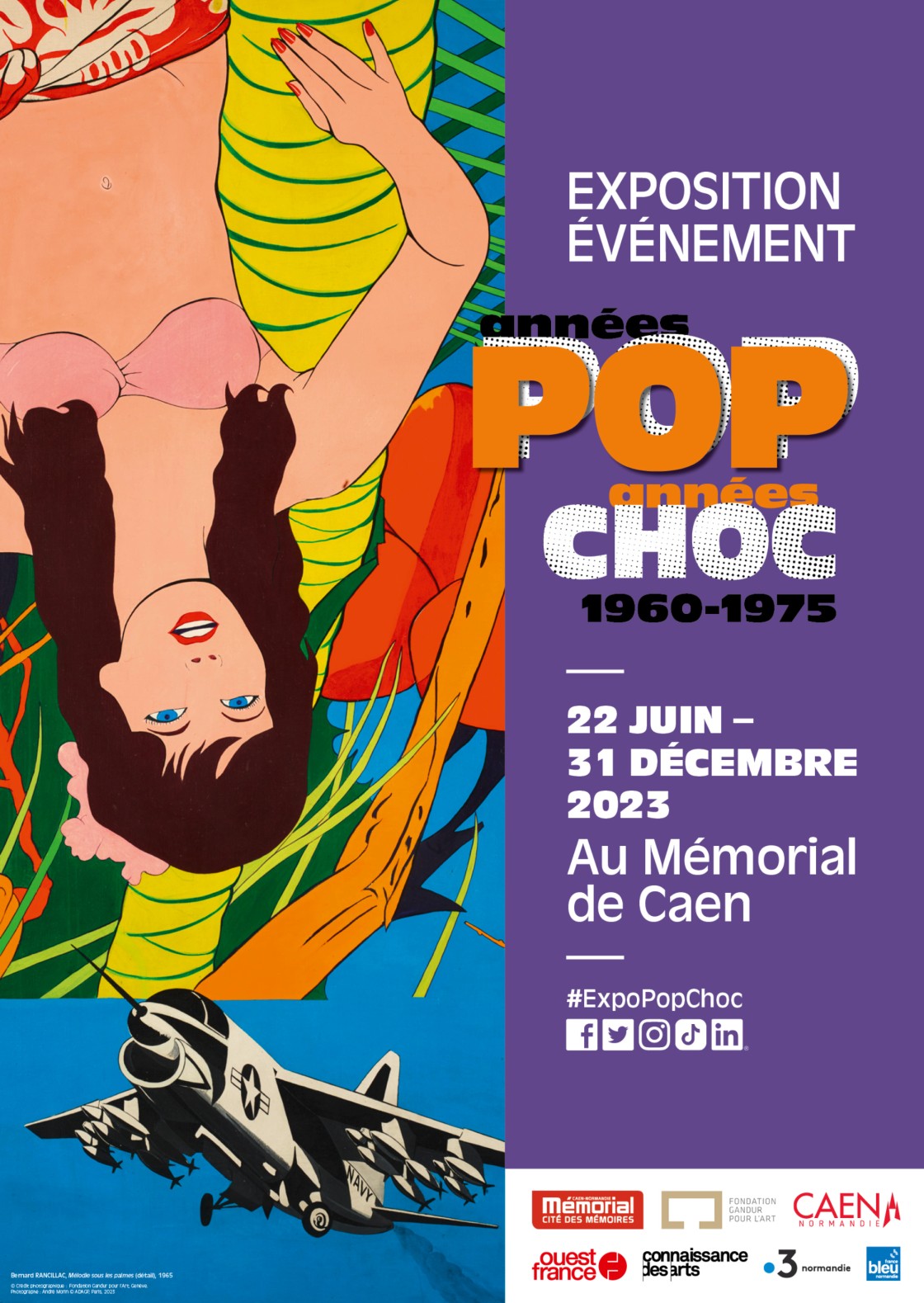 MÉMORIAL DE CAEN
Esplanade Général Eisenhower
14050 Caen, France
Agenda
conference
« L'art des années 60, entre combats politiques et luttes sociales » by Yan Schubert
Yan Schubert, curator of the exhibition Années pop, années choc, 1960-1975 and curator of fine art, will present the narrative figuration movement that emerged in the 1960s in the United States and Europe.
Publications
July 2023 Exhibition catalogue
Années pop, années choc
1960-1975
The catalog Années pop, années choc, 1960-1975 accompanies the exhibition presented from June 22 to December 31, 2023 at the Mémorial de Caen. It covers the pivotal period of the 1960s and 1970s, between geopolitical tensions during the Cold War and social transformations in the wake of May 68
Works on loan