---
Fondation Marguerite et Aimé Maeght, Saint-Paul de Vence (FR) 2 July 2022 - 23 October 2022
At the Heart of AbstractionCollection Fondation Gandur pour l'Art
From July 2 to November 20, Fondation Maeght is unveiling 100 works from the Fondation Gandur pour l'Art offering a fascinating immersion into abstraction from the 1950s to the 1980s. Conceived chronologically by Yan Schubert, curator of the fine arts collection at the Fondation Gandur pour l'Art, the exhibition path offers insights into four decades of creativity during which artists revisited the very foundations of painting in the wake of the war and envisioned new forms of expression. Divided into nine thematic sections, the exhibition charts the evolution of non-figurative art and its various trends from the 1950s to the late 1980s.
Curator : Yan Schubert
In the wake of Second World War, as many European artists exiled in the United States headed back to France, Paris regained its status as a global cultural capital. Driven by a thirst for freedom and a craving to rethink painting in the post-war years, artists from all over the world returned to their studios and engaged in an era of creative effervescence, be it in the arts, literature or cinema. While the breakthroughs by the vanguards of the first half of the 20th century were an invaluable post-war stimulus, abstract art renewed itself from the most gestural expression to the interrogation of materials, mediums and techniques.
The works displayed at the Fondation Maeght highlight the variety of forms embraced by abstraction during these creative years. The constantly renewed pictorial research led by Hans Hartung, Martin Barré, Simon Hantaï or Pierre Soulages, to name only a few, trace the evolution of non-figurative art over four decades. In a thematic and chronological path, the exhibition invites the viewer to discover lyrical and gestural abstraction by Georges Mathieu, abstract expressionism by Sam Francis and Joan Mitchell, geometric abstraction by Victor Vasarely, kinetic works by Alexander Calder and Jean Tinguely, through to the rethinking of painting by the Supports/Surfaces group. The 1980s ushered in an era of revitalized abstract art, building on the hectic experimentation of earlier years.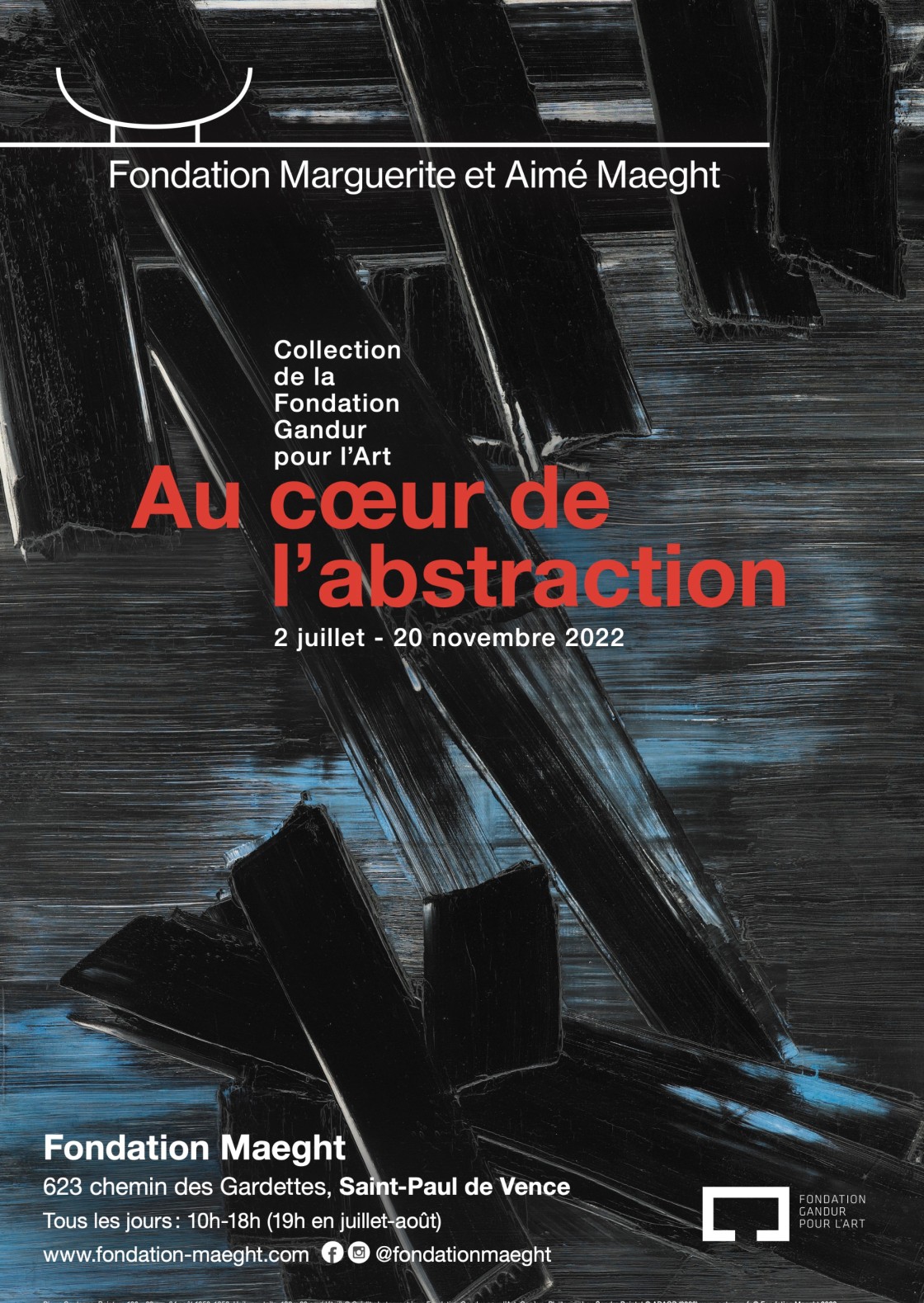 FONDATION MAEGHT
623 Chemin des Gardettes
06570 Saint-Paul de Vence, France

ADMISSION
Adults: 16€
Concessions: 11€ (children aged 10-18, students with ID, press, unemployed)
Free: children under 10, disabled visitors, Friends' Society members
More details on the Fondation Maeght website
Opening Hours
Monday – Sunday:
10:00AM – 7:00PM (July – August)
10:00AM – 6:00PM (rest of the year)
Publication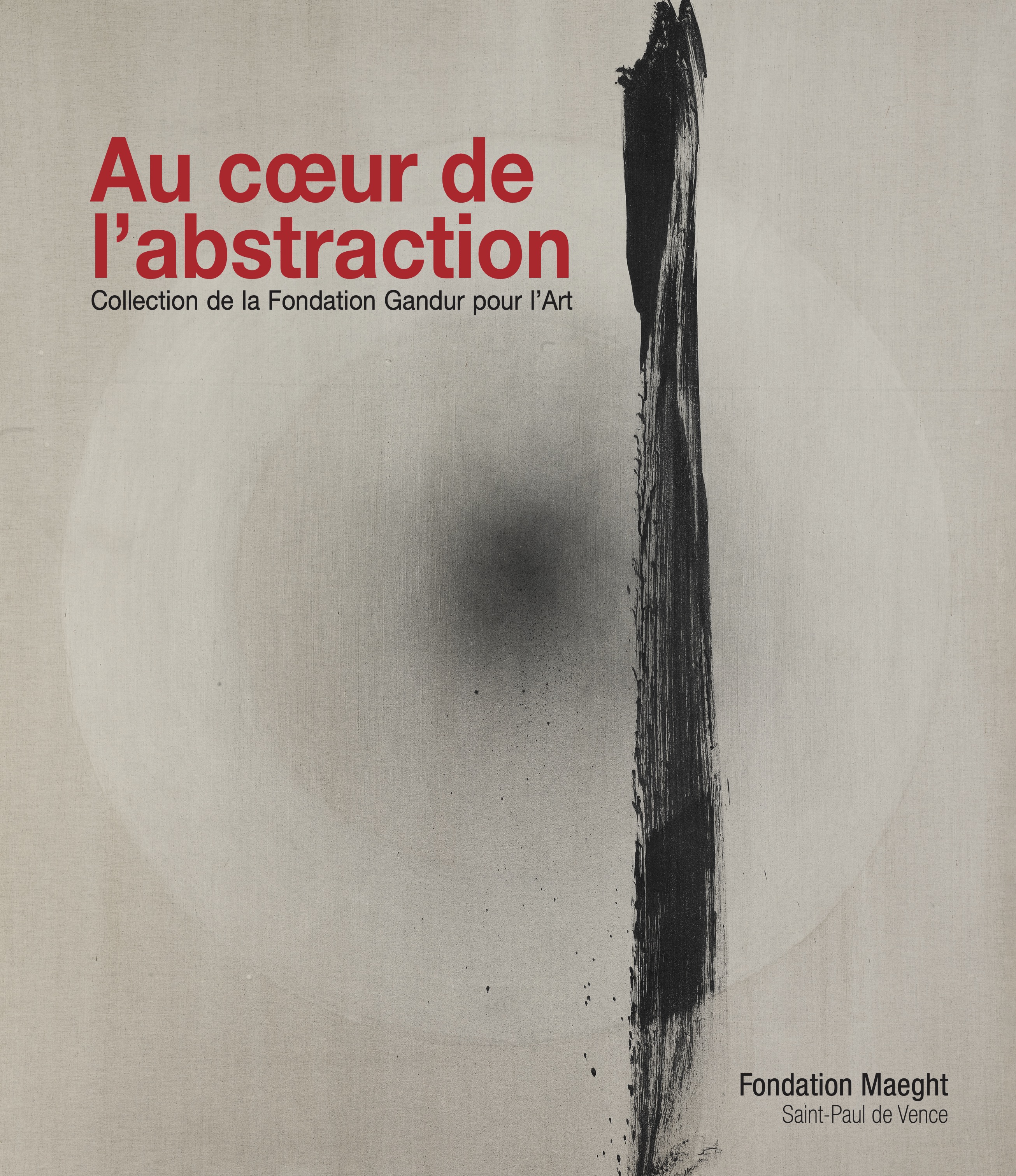 Presentation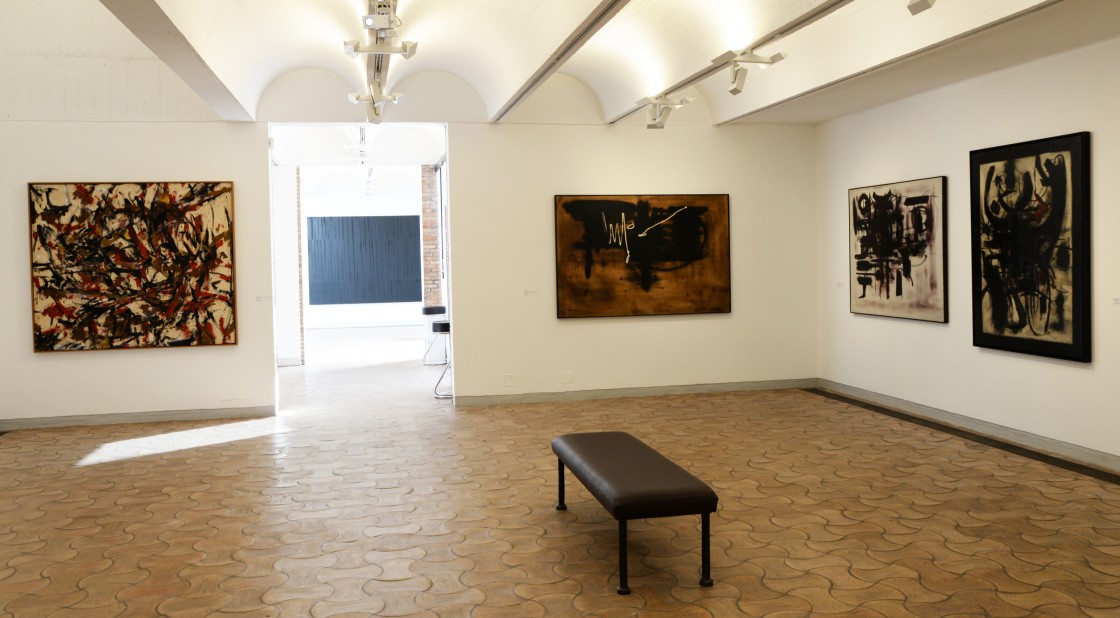 Dialogues
Ernest Briggs, Hans Hartung, Georges Mathieu, Jean Paul Riopelle, Gérard Schneider
In response to the trauma inflicted by Second World War, artists reconsidered their style of painting and depicting the world when peace returned. As Paris regained its status as art capital of the world, two major trends took centre stage: geometric abstraction, the legacy of Piet Mondrian and Kasimir Malevich, on the one hand, and lyrical abstraction, led by the painter Georges Mathieu, on the other. In 1951, together with the art critic Michel Tapié, he organised the "Véhémences confrontées" exhibition, one of the earliest dialogues between European and North American non-figurative artists.
Peintures
Pierre Soulages
Often identified with gestural painters, Pierre Soulages nonetheless distanced himself from them and shifted his interest more to the "pictorial embodiment" of the gesture rather than to the gesture itself. From the mid-1940s onwards, he relentlessly experimented with and probed black colour and its inherent luminosity, playing with contrasts and bursts of luminosity. He developed tools and methods for working with materials that imparted a distinctive rhythm and profundity into his work.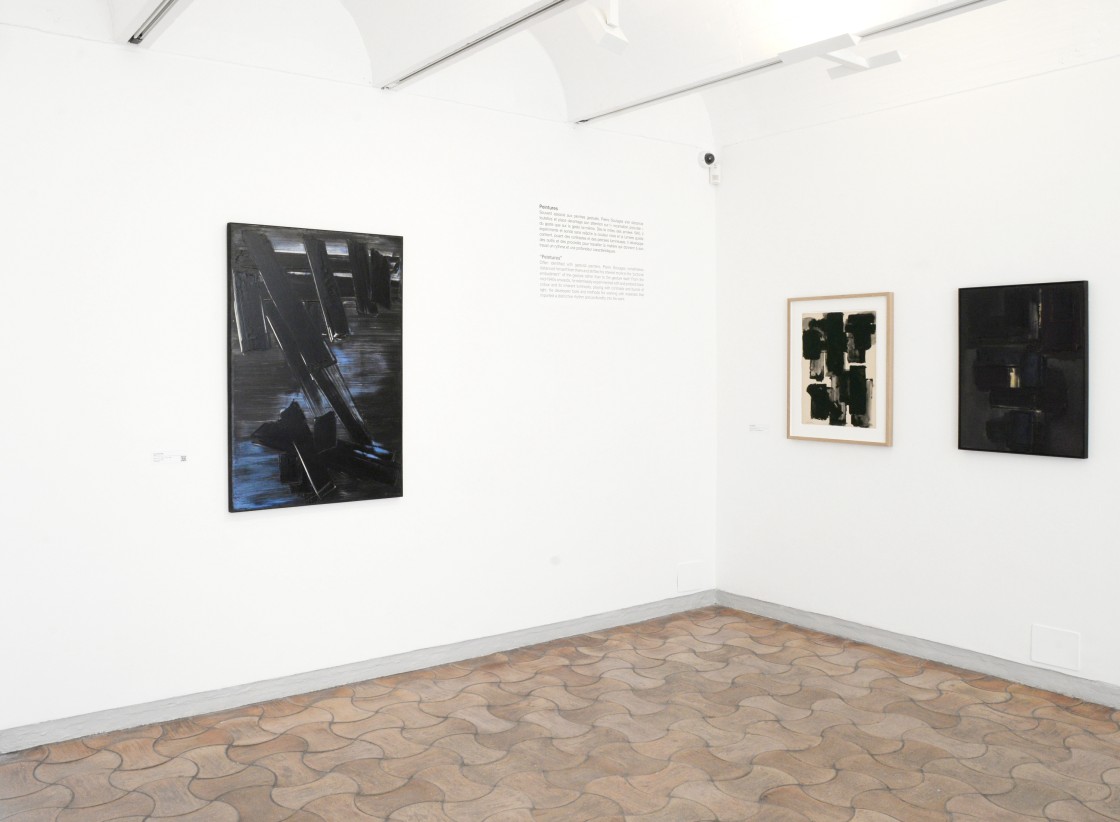 Échanges (Exchanges)
Arman, Martin Barré, Sam Francis, Joan Mitchell, Judit Reigl, Alfons Schilling, Jack Youngerman
Following the war, many North American painters stayed or settled in Paris, thus partaking in a period of artistic effervescence attended by the opening of countless galleries. Artists from across Europe also moved to the capital and took part in the emulation and dialogue fostered by the fairs and exhibitions, occasionally tearing down silos between genres.
Tendances géométriques (Geometric tendencies)
Pol Bury, Alexander Calder, Jo Delahaut, Auguste Herbin, Ray Parker, Serge Poliakoff, Jean Tinguely, Victor Vasarely
If for many artists lyrical or gestural abstraction is a means of escaping from reality, for others geometry is an even more radical way of approaching it. Materials, shapes and colours are all ingredients of this language. However, angles or curves divide the various schools of thought.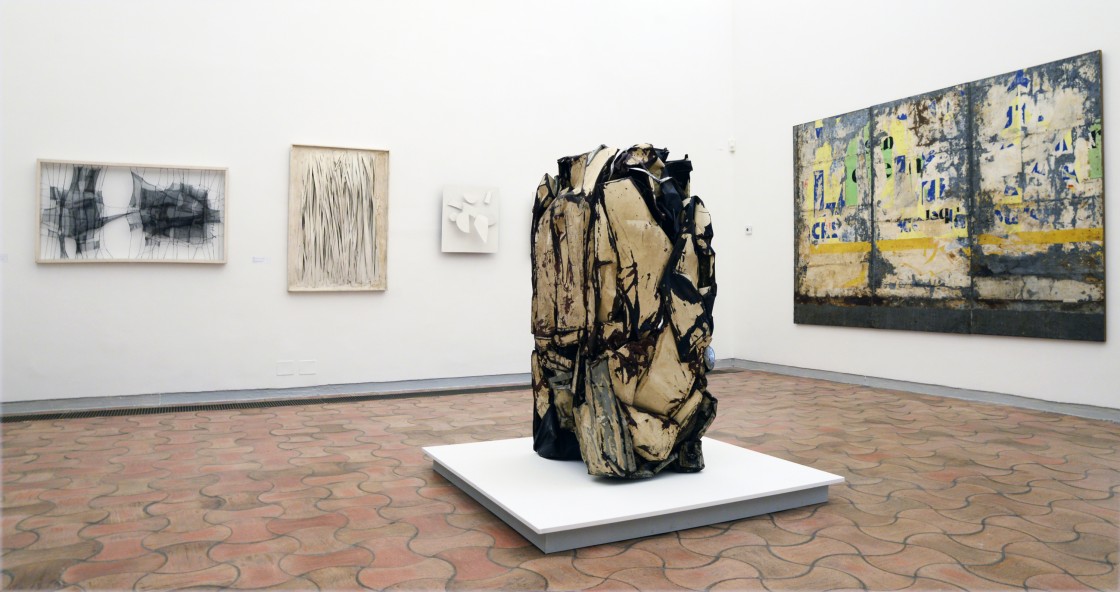 Expérimentations (Experimentations)
Alberto Burri, Pol Bury, César, Lucio Fontana, Raymond Hains, Piero Manzoni, Henri Michaux, Manuel Rivera, Mimmo Rotella, Salvatore Scarpitta, Jean Tinguely, Emilio Vedova
For some, resorting to abstraction was not enough. They sought to transcend traditional painting. Besides gestures, they also interrogated the forms of expression and the techniques used. To achieve this, they used recycled materials and diverted all kinds of tools from their intended use.
Matérialités (Materiality)
Arman, Christo, Jean Dubuffet, Francisco Farreras, Luis Feito, Simon Hantaï, Conrad Marca-Relli, Georges Noël, Antoni Tàpies, Léon Zack
For some artists, experimentation with materials was a predominant theme in their work. Rejecting noble materials, they turned to poor materials - be they plant, mineral or industrial. They mixed them, aggregated them, diverted them, and via their approach, interrogated the expressive capacities of the material.
Épurements (Refinements)
Martin Barré, Pol Bury, Jean Degottex, Gottfried Honegger, François Morellet, Aurelie Nemours, Jules Olitski, Joel Shapiro
Seeking to minimize the traces of their actions, some artists used spray paint or spraying tools, thereby eliminating any contact with the canvas, while proponents of concrete art advocated a plastic language devoid of any reference to the reality of the outside world.
Supports/Surfaces
André-Pierre Arnal, Vincent Bioulès, Marc Devade, Daniel Dezeuze, Noël Dolla, Simon Hantaï, Bernard Pagès, Jean-Pierre Pincemin, Patrick Saytour, André Valensi, Claude Viallat
At the turn of the 1970s, the artists of the Supports/Surfaces group also interrogated painting and its methods by deconstructing the very notion of the tableau. Emphasis was placed on the work's materiality, as well as on its composition, format, serial reproduction and even its integration into a space free of the constraints of a museum. Often detached from its frame, the canvas is at times folded, crumpled, and even sometimes sewn or burned.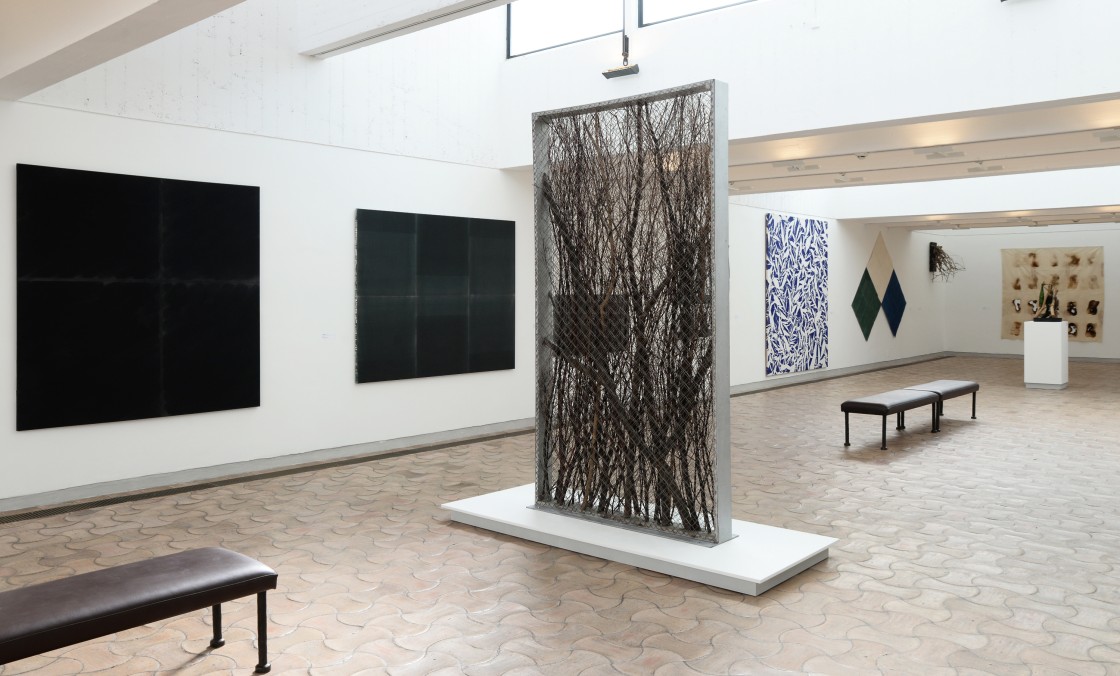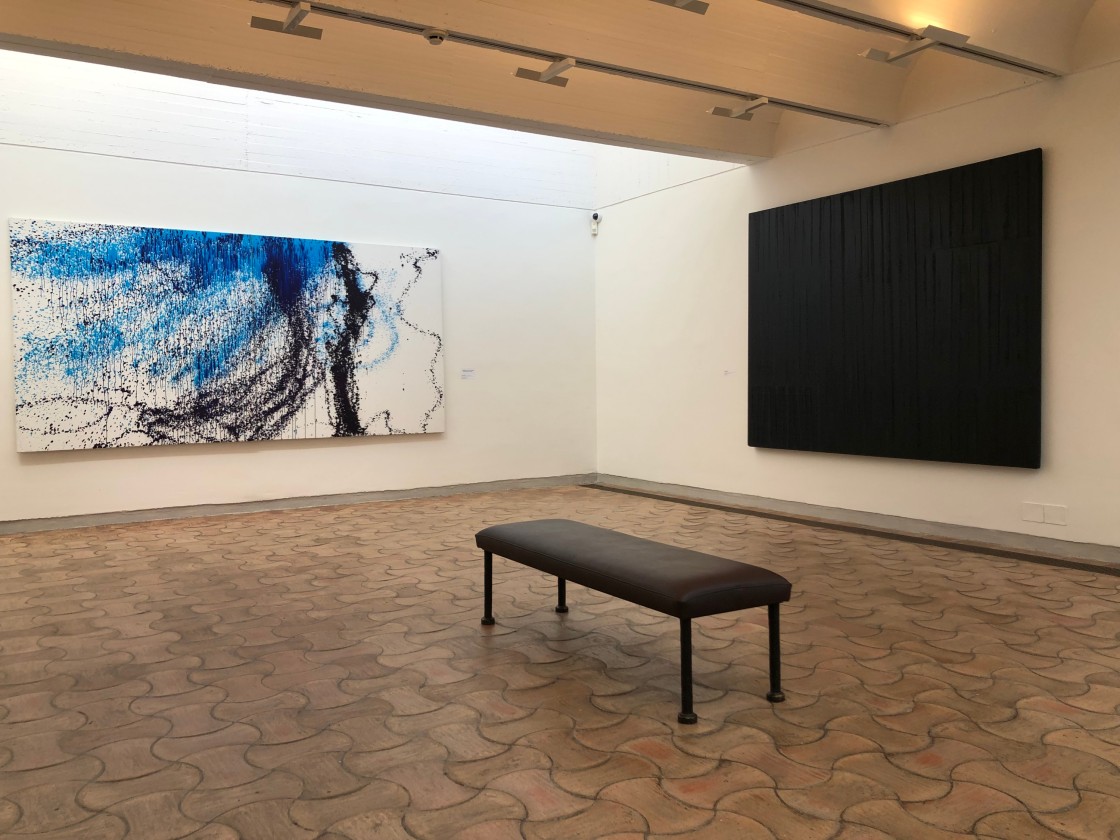 Renouvellements (Renewals)
Jean Degottex, Hans Hartung, Pierre Soulages
For some artists whose work spans several decades, pictorial research continued into the 1970s and 1980s with the introduction of new techniques and the invention of new methods. Thus, Hans Hartung, Pierre Soulages and Jean Degottex constantly renewed their work and opened up new means of expression.
Works on loan