---
Kunsthalle zu Kiel, Kiel (DE) 2 October 2021 - 6 March 2022
MAMAC, Nice (FR) 10 march 2020 - 29 august 2021
Amazons of Pop! Women Artists, Superheroines, Icons 1961-1973
With Amazons of Pop! the Kunsthalle zu Kiel will be showing the female side of pop art on an extensive scale with around 40 artists from Europe and the USA. About 100 works from the fields of painting, installation, performance art, sculpture and film will be exhibited and encompass an era of social optimism and political tensions in the period from 1961 to 1973.
Curators : Hélène Guenin and Géraldine Gourbe (MAMAC, Nice, France) in collaboration with Regina Göckede and Anette Hüsch (Kunsthalle zu Kiel, Kiel, Germany)
In art history, female pop artists have long been overlooked, neglected or forgotten. Names such as Dorothy Iannone, Kiki Kogelnik and Evelyne Axell did not initially reach a wider audience, although, like many other artists of their kind, they not only enriched the pop art movement but also played a decisive role in shaping it. Soft, flexible materials such as plastics, fresh, vivid colours and everyday consumer culture all inspired a brand of pop art that is colourful, humorous, political, challenging and transgresses boundaries. Amazons of Pop! invites visitors to delve into the world of pop and a period of awakening: the 1960s and the beginning of the 1970s.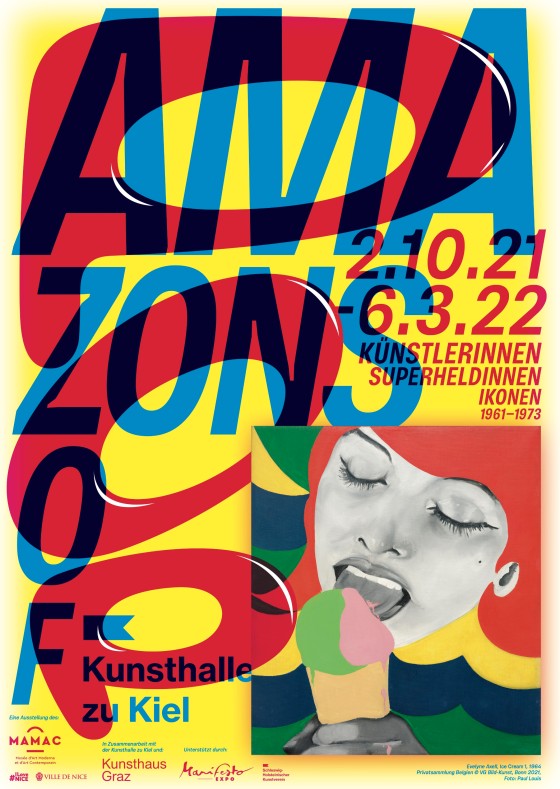 Works on loan