---
Reykjavik Art Museum – Hafnarhús, Reykjavik (IS) 9 April 2022 - 29 September 2022
Erró: The Power of Images
Reykjavík Art Museum – Hafnarhús is opening Erró: The Power of images, a comprehensive overview of the artist's colourful career that has made use of various media in the visual arts. Erró is one of the few Icelandic artists who has gained a foothold in the international art scene. The Power of Images will display everything from performances, video works, graphics, multiples and collages, to larger works in public spaces and paintings of all scales. All have helped to earn his place in the art history of Europe. Here presented, is the most extensive exhibition that has been realized of the artist's works in Iceland.
Curators: Danielle Kvaran et Gunnar B. Kvaran
The artist Erró, born Guðmundur Guðmundsson in 1932 in Ólafsvík, West Iceland, was among the most prominent figures of the European avant-garde of the 1960s. In the history of art of that period, his name is associated not only with the renewal of pictorial figuration, due to his invention of narrative collage-paintings, but also with the Happenings movement and experimental cinema. Although his work is often, rightly, attached to artistic groups like Surrealism, Narrative Figuration or Pop art, it cannot be reduced to any one of them.
The exhibition The Power of Images reflects Erró's remarkable career and is considerably based upon the artist's donation of art to the City of Reykjavík. In 1989 the City of Reykjavík accepted a large collection of around 2000 works by the artist, including documents and other material important to research on the artist and his contemporary time. The collection has grown steadily over the past years, with nearly 4000 works now in total.
The Power of Images is installed across Reykjavík Art Museum – Hafnarhús, with more than 300 artworks of various kinds, as well as photographs and other information about the artist.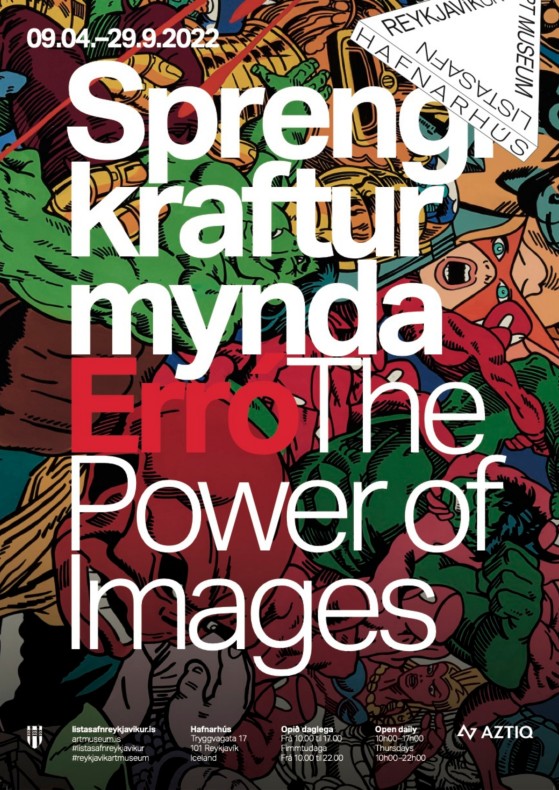 Reykjavik Art Museum
Hafnarhús
Tryggvagata 17
101 Reykjavík
Work on loan