---
Musée d'Ethnographie de Genève, Geneva (CH) 8 September 2020 - 28 February 2021
Jean Dubuffet, a barbarian in Europe
Co-produced with the Musée des Civilisations de l'Europe et de la Méditerranée (Mucem), Marseille (France) and the IVAM Institut Valencià d'Art Modern (Spain), the travelling exhibition Jean Dubuffet, a barbarian in Europe moves to the MEG for the third stage of its tour. Focusing on the artist's visit to Switzerland in the summer of 1945, the exhibition shows how Dubuffet combined painting and writing in his artwork, along with the research he devoted to what he referred to as Art Brut. Jean Dubuffet, a barbarian in Europe presents his artistic production in all its diversity, and in the process, showcases some of the objects and documents that inspired him from his visits to ethnographical and folk art museums and in various collections dedicated to the "art of the insane".
CURATORS : Batiste Brun and Isabelle Marquette
On his trip to Switzerland in 1945, Jean Dubuffet began his journey with a visit to the MEG, where he met with Eugène Pittard and Marguerite Lobsiger-Dellenbach. They introduced him to Genevan psychiatrist Charles Ladame, and later Walter Morgenthaler in Bern who helped him discover different works of art. These encounters inspired his concept of Art Brut.
Painter, writer, and inventor of Art Brut, Jean Dubuffet (1901-1985) was a key figure in the 20th-century art scene. In the aftermath of the Second World War, this elusive and controversial artist brought into play a radical critique of the art and culture of his time, making constantly renewed invention the pillar of creation and thought. Borrowing from anthropology, folklore and the field of psychiatry, he continued the "decompartmentalization" initiated by the avant-gardes of the interwar period, and propagated the belief in a supposedly primitive art, thereby opening up new avenues of creation.
The exhibition Jean Dubuffet, a barbarian in Europe presents almost 300 artworks and objects from some of the biggest French and European collections.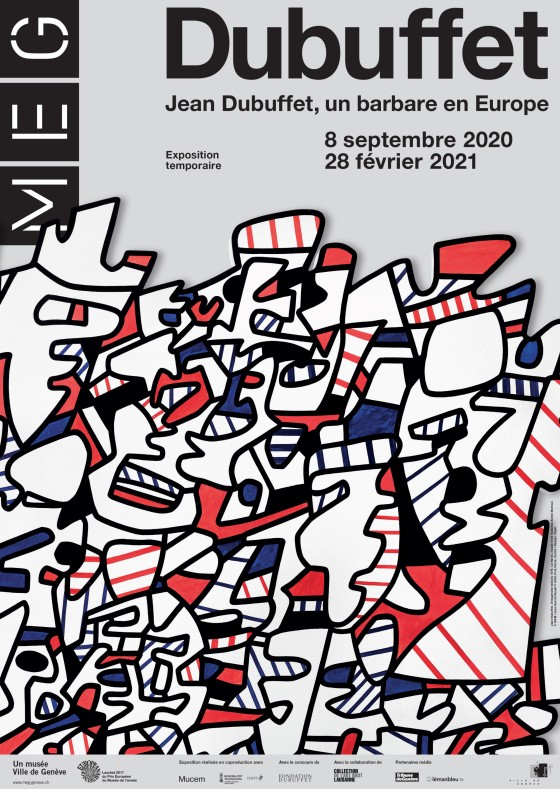 ---
Works on loan