---
Musée Carnavalet – Histoire de Paris, Paris (FR) 20 October 2023 - 25 February 2024
La Régence à Paris (1715-1723). L'aube des Lumières
The Musée Carnavalet - Histoire de Paris is devoting an exhibition to the Regency period, when the government returned to Paris between the reigns of Louis XVI and Louis XV, leding to a period of intense cultural and economic effervescence. On this occasion, the Fondation Gandur pour l'Art is lending four tapestries illustrating the story of Daphnis and Chloé, woven at the Manufacture des Gobelins from cartoons by Regent Philippe d'Orléans.
Curators: Valérie Guillaume, José de Los Llanos et Ulysse Jardat
When Louis XIV died on September 1, 1715, his great-grandson Louis XV, aged five, was far too young to reign. Philippe d'Orléans, nephew of Louis XIV, assumed the Regency of the kingdom until 1723. Breaking with the austerity of the last decades of the Sun King's reign, he established power in Paris. The capital then experienced a singularly inventive, creative and libertarian period. The ambiguous charms of Watteau's fêtes galantes were matched by the philosophical spirit of Voltaire and Marivaux, while the adoption of Law's paper money sparked a short-lived but intense financial frenzy.
Through 200 works from public and private collections, this exhibition evokes the changes in society that permanently established Paris as the cultural capital of France. Philippe d'Orléans' personal taste for the arts, both as a collector and as an amateur painter, is also explored, notably through the Daphnis et Chloé tapestries.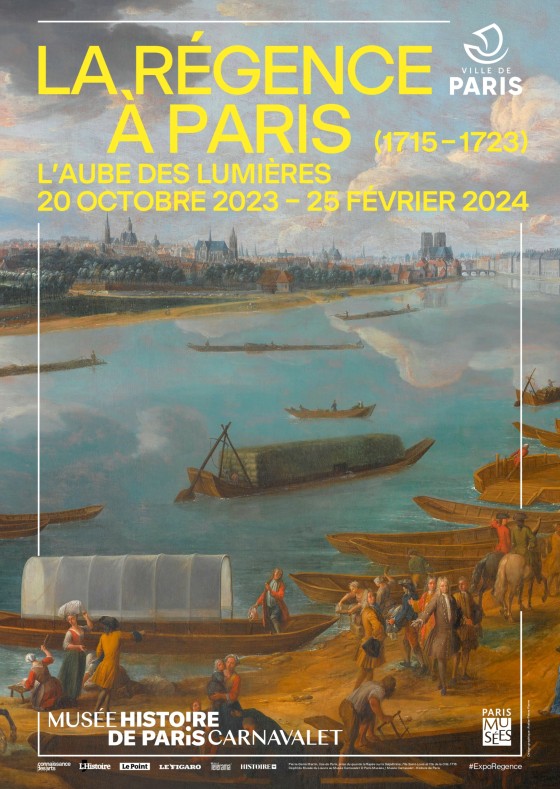 Artworks in focus
December 2023 Decorative Arts
Daphnis et Chloé
An enlightened art lover, the Regent Philippe II of Orléans took up painting, following the counsel of his First Painter, Charles Coypel. The tapestry piece of Daphnis and Chloe, woven at the Manufacture des Gobelins circa 1718-1720, based on his cartoons, offers a unique testimony to his pictorial practice. On display at the Musée Carnavalet in Paris, as part of the exhibition La Régence à Paris (1715-1723): l'aube des Lumières until 25 February 2024, these four tapestries foster a dialogue with an ensemble of decorative art masterpieces housed at the Museum in the so-called "Regency" style.
Works on loan