---
MAMAC, Nice (FR) 10 March 2020 - 29 August 2021
Kunsthalle zu Kiel, Kiel (DE) 2 october 2021 - 6 march 2022
She-Bam Pow POP Wizz !
Les Amazones du POP
On the occasion of MAMAC's 30th anniversary, the exhibition She-Bam Pow POP Wizz ! Les Amazones du POP looks back at a strong axis of its history: the face-off between France and the United States and the borrowing movements between New Realism and Pop Art. Behind the Franco-American artist Niki de Saint Phalle, an emblematic figure in the MAMAC collection, the exhibition retraces for the first time in France the history of a generation of European and North American female artists who, between 1961 and 1973, opened the way to an alternative universe and boldly contributed to the invention or redefinition of international pop art.
Curators : Hélène Guénin and Géraldine Courbe
Paper heroines come out of the boxes to explore a forbidden world. Their names are: Bararella, Jodelle, Pravda the Survivor... They are free, powerful and sensual like Amazons. Born in Europe of a teenage culture, their adventures outside the norm, outside the boxes, are deployed in magazines, comic books, films and pop clips ... They embody a new ideal that will drive a revolution in morals unprecedented, in the late 1960s.
Alongside these representations of paper, other heroines, very real, participate in the invention of a new artistic language: pop. Their works, like comic strips, are full of rainbow colors, sensual and vibrant, which free themselves from the limits of the line. It is thus an odyssey of the senses to sound the death knell of a post-war Europe in black and white.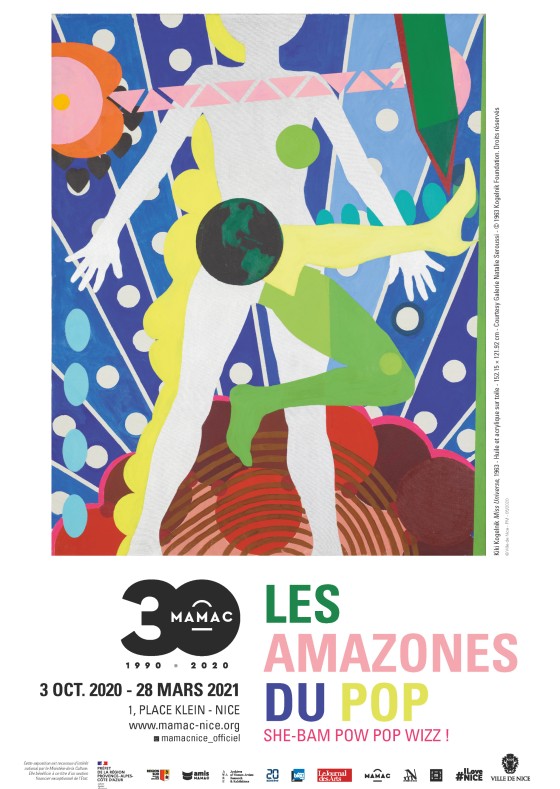 ---
Works on loan