---
Fonds Hélène & Édouard Leclerc pour la Culture, Landerneau (FR) 16 December 2018 - 22 April 2019
Mitchell/Riopelle. Un couple dans la démesure
Key figures in abstract painting of the second half of the 20th century, American painter Joan Mitchell (1925-1992) and Canadian painter Jean-Paul Riopelle (1923-2002), belong, like Camille Claudel and Auguste Rodin, Lee Miller and Man Ray, Frida Kahlo and Diego Rivera, Lee Krasner and Jackson Pollock, to the realm of sentimental and artistic mythologies that reveal the full significance of a close emotional bond between two passionate and daring artists. For the very first time, an exhibition retraces their respective artistic careers in the light of their relationship, from their first meeting in 1955 until their separation in 1979. Iconic and mainly large format pieces will be presented in Landerneau, the fruits of their work accomplished within the special context of their shared lives.
CURATOR: Michel Martin
The exhibition Mitchell | Riopelle. Un couple dans la démesure was devised by the Musée national des beaux-arts of Quebec and produced in conjunction with the Art Gallery of Ontario and the Fonds Hélène & Édouard Leclerc pour la Culture (FHEL). Unprecedented in bringing together around 60 major works by these two giants of modern art, it was shown for the very first time at the Musée national des beaux-arts of Quebec in 2017 and then at the Art Gallery of Ontario in 2018. The exhibition principally comprises large format paintings and a number of works on paper from more than thirty French, Canadian and American lenders and private and museum collections. This project has been made possible by the invaluable support of the Joan Mitchell Foundation (New York) and of Yseult Riopelle and Sylvie Riopelle. The partnership developed with the FHEL for a third presentation of this exhibition, in Brittany, enables this project to progress via a new link, echoing the two artists' attachment to and interest in France.
The exhibition Mitchell | Riopelle. Un couple dans la démesure at the FHEL in Landerneau is an opportunity to emphasize this project's originality through the addition of more than 15 new works. Most of these have never previously been shown in France, or have not been visible on the French scene for over 25 years. Such a situation reveals the urgency and appropriateness of highlighting the work of Joan Mitchell and Jean-Paul Riopelle, two key figures in abstract painting from the second half of the 20th century. Both individually and as a couple, they helped to shape the French art world.
The FHEL's particular concern to work in partnership with private and public European collectors renders even more evident these artists' presence in the wider context of the development of international art over the last six decades. The inclusion of new and highly significant works thus permits more detailed interpretation as to any possible interplay between Mitchell's and Riopelle's artistic practices.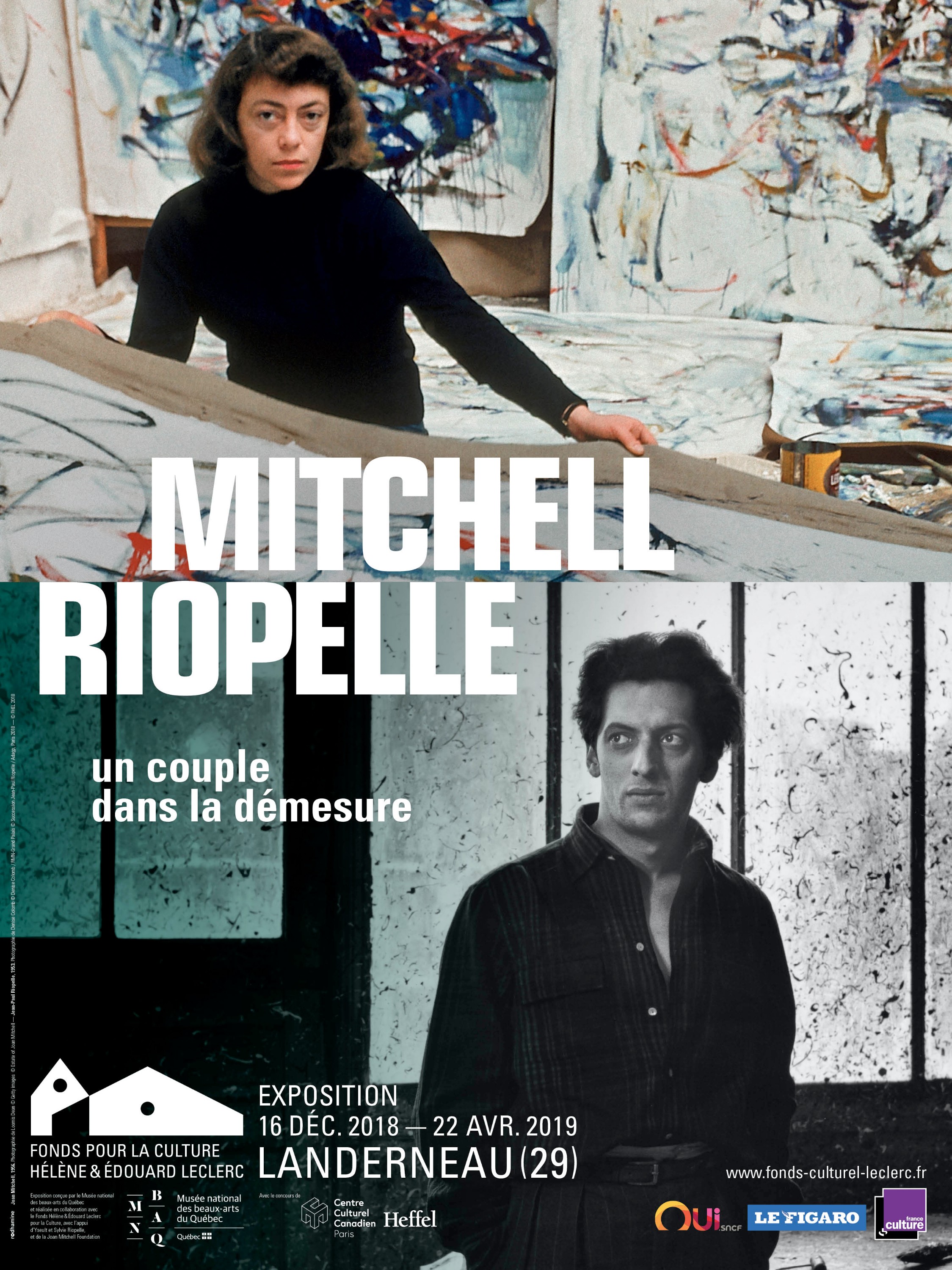 Exhibition poster. Joan Mitchell, 1956. Photograph of Loomis Dean © Getty images © Estate of Joan Mitchell © Succession Jean-Paul Riopelle / Adagp, Paris, 2018 © FHEL 2018
Works on loan