---
Henie Onstad Kunstsenter, Høvikodden (NO) 16 September 2022 - 12 February 2023
Niki de Saint Phalle
One of the greatest icons of the 20th century, Niki de Saint Phalle (1930-2002) first made her mark in the early 1960s and continued breaking conventions in both art and society. Her work has been of great influence internationally and across generations. From September 16, 2022 to February 12, 2023, Henie Onstad Kunstsenter will show the first presentation of her work in Norway: a retrospective long overdue given Saint Phalle was a pioneer in art and feminism.
Curator: Caroline Ugelstad
Niki de Saint Phalle was a key figure in the new generation of young artists who, at the beginning of the 1960s, were redefining the boundaries of what an artwork could be. Her longing for freedom, challenging of stereotypical women's roles, her breech with aesthetic practices and staging of herself and her art, are all of high relevance. The exhibition will lead the visitors through various chapters of the artist's work and life, spanning from her early paintings and assemblages through her shooting paintings and Nanas and her work with the sculpture park in Tuscany, The Tarot Garden.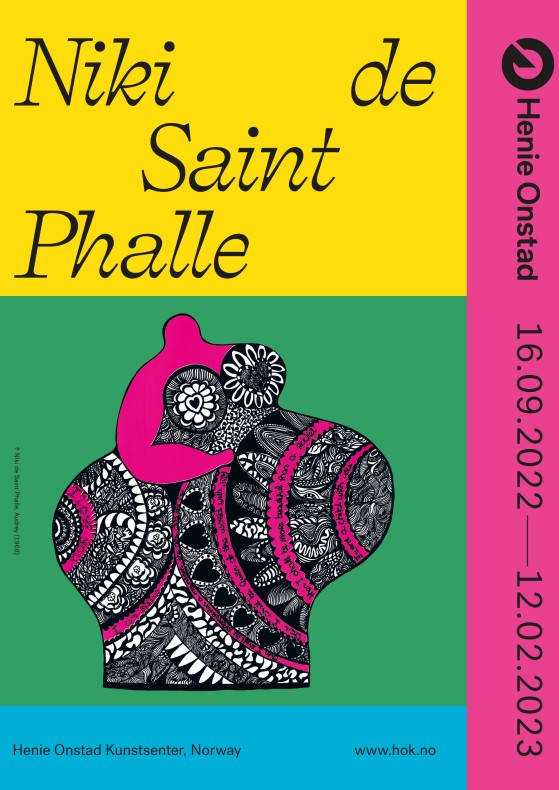 HENIE ONSTAD KUNSTSENTER
Sonja Henies v. 31
1311 Høvikodden, Norway

---
Works on loan