---
Ludwig Museum, Koblenz (DE) 4 November 2018 - 6 January 2019
Pierre Soulages. Noir - Lumière. Farbe und Geste in den 1950er Jahren
One of the last living legends of abstract art, French artist Pierre Soulages will celebrate his 100th birthday in 2019. His radicalism has marked the history of art, characterized by the colour black to which he devoted himself almost all his life. On the occasion of this anniversary, the Ludwig Museum in Koblenz is presenting an major exhibition featuring some forty works by the painter, including prints and early paintings.
Curator : Beate Reifenscheid
Soulages' work is presented here in relation to the major artistic and political movements of the 1950s, the post-war period and the artist's first international successes (Guggenheim Museum in New York in 1953, MoMA and documenta in Kassel in 1955). The exhibition looks back at his inspirations and the influence of his painting on his time.
At the centre of the exhibition is the work Peinture, 14 avril 1953, which has been part of the collection since the opening of the Ludwig Museum in 1992. It marks a turning point in Soulages' work, a radical change towards the colour black to which he devoted himself almost exclusively from the late 1970s onwards.
Black becomes the mirror and symbol of light in Soulages' work. The artist works with unusual tools such as broomsticks, brushes or wooden sticks and allows the underlying layers of paint to burst. Pierre Soulages makes light visible by painting works « beyond black », which he calls Outrenoir. The latter transmit the reflections of light when it hits the black surface of the canvas, making light a fundamental part of his work.
In addition to Soulages' paintings, works by Hans Hartung, Karl Otto Götz and Georges Mathieu in particular will be on display. All these artists were active in post-war Paris and their painting also reflects the newfound freedom. It generates free forms, without clear contours, in large pictorial and graphic gestures. These painters are interested in spontaneity, the process of painting and the experimentation of coloured matter on canvas, hence the name « tachism ».
The exhibition is accompanied by a catalogue with contributions from Beate Reifenscheid, Dieter Ronte, Mark Hesslinger and Caroline Wind.
The exhibition is the result of a collaboration with the artist and the Musée Soulages de Rodez.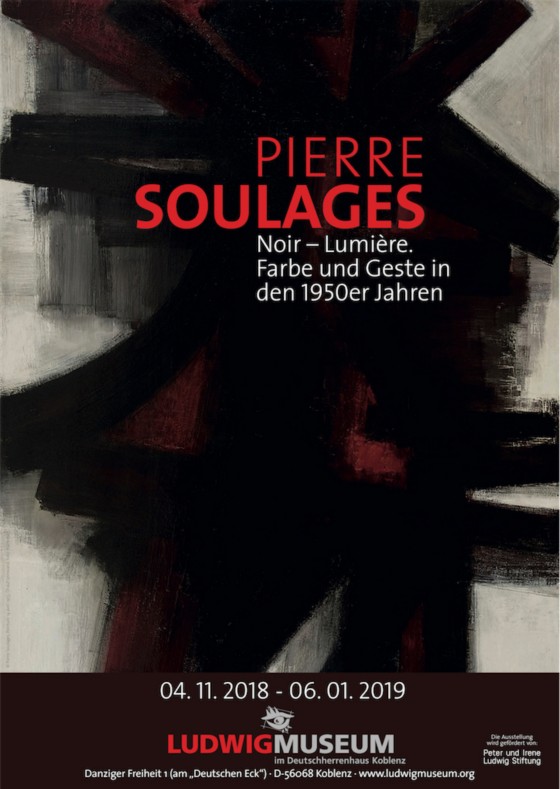 ---
Works on loan