---
Espace Ami Lullin, Bibliothèque de Genève, Genève (CH) 23 September 2022 - 16 October 2022
Révéler l'Égypte oubliée. Champollion, Toutânkhamon et nous.
The exhibition Révéler l'Égypte oubliée. Champollion, Toutânkhamon et nous, organised by the University of Geneva under the aegis of Prof. Philippe Collombert, professor of Egyptology, looks back at two defining moments in Egyptology. Two hundred years ago, French scientist Jean-François Champollion deciphered hieroglyphs for the first time thanks to the famous Rosetta stone; 100 years ago, British archaeologist Howard Carter discovered the tomb of Toutankhamun. Today, excavations and research continue, as this three-themed exhibition highlights.

Curators: Aurélie Quirion, Noémie Monbaron
From September, 23 to October 16, 2022, The Espace Ami Lullin at the Geneva Library will welcome stelae, papyrus, amulets, and other funerary objects to celebrate and inform on the birth of Egyptology. For the first time, 200 years ago, the decoding of hieroglyphs opened up the world of the pharaohs to us. A hundred years later, the tomb of Toutankhamun was discovered in the Valley of the Kings, almost untouched, by archaeologist Howard Carter and his team. Today, research in Egyptology continues to develop our understanding of ancient Egypt through studies in linguistics and archaeological fieldwork.


The Fondation Gandur pour l'Art contributes to this exhibition through the loan of 11 artefacts from its collection of ancient Egyptian archaeology.

This exhibition is complemented by the book Révéler l'Égypte oubliée, 1822-1922-2022, and by the following talk series (free entry / in French):


Toutankhamun: The Man Behind the Mask

Opening lecture by Dimitri Laboury, professor of Egyptology and Egyptian archaeology, University of Liège.

Wednesday 21 September 2022, 6.30 pm, Uni Dufour


Archaeology: Excavations in Egypt Today

Lecture-debate with Susanne Bickel, professor at the University of Basel and director of the University of Basel Kings' Valley Project; Philippe Collombert, professor at UNIGE, director of the French-swiss mission in Saqqâra; Audrey Eller, member of the archaeological mission in Dahchour (DAI).
Moderator: Xavier Droux, curator at the Fondation Gandur pour l'Art and co-director of the French-swiss-sudanese archaeological mission at Kerma-Doukki Gel.

Thursday 29 September 2022, 6.30 pm, MR080 auditorium, Uni Mail
Champollion and the mystery of the hieroglyphs


Lecture-debate with Nathalie Bosson, lecturer at UNIGE; Karine Madrigal, associate researcher at HiSoMA laboratory, Lyon; Andréas Stauder, director of studies at the École Pratique des Hautes Études, Paris.
Moderator: Noémie Monbaron, University of Geneva.

Thursday 6 October 2022, 6.30 pm, MR080 auditorium, Uni Mail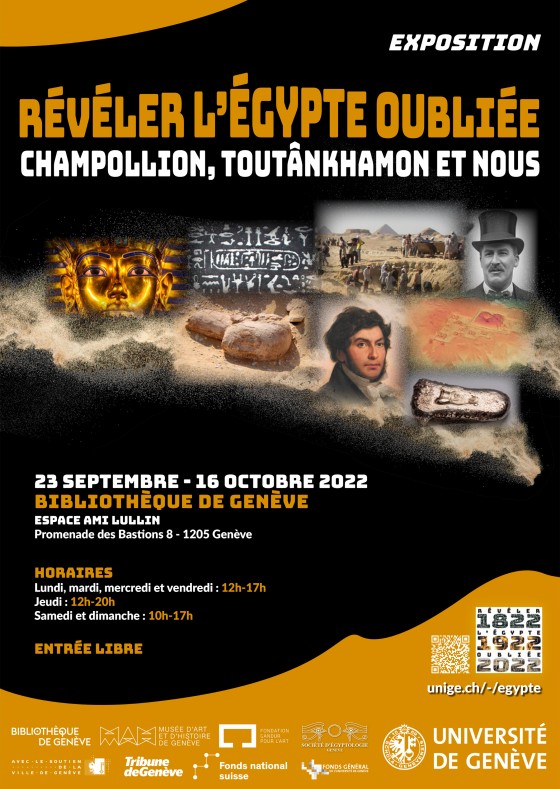 ESPACE AMI LULLIN, BIBLIOTHEQUE DE GENEVE
Promenade des Bastions 8
1205 Genève, Suisse

---
Works on loan