---
Musée des Beaux-Arts de Dijon, Dijon (FR) 16 December 2022 - 3 April 2023
Vieira Da Silva. L'œil du labyrinthe. L'œil des collectionneurs
The Musée Cantini, Musée d'Art moderne de la Ville de Marseille, and the Musée des Beaux-Arts de Dijon (in partnership with the Galerie Jeanne Bucher Jaeger Paris-Lisbon) are presenting a retrospective of Maria Helena Vieira da Silva (1908-1992), the internationally renowned Portuguese-born artist. The event brings together eighty emblematic works, reflecting her artistic path, scattered in private collections and European institutions.
Curators: Naïs Lefrançois, Agnès Werly, Guillaume Theulière
The exhibition illustrates the key stages of the artist's career, marked by her tireless questioning of perspective, urban transformation, architectural dynamics, and the musicality of the pictorial touch. "Perspective is a way of playing with space. I get great enjoyment from watching space and rhythm. The architecture of a city is related to music. There are long time spans, and short ones. There are small windows. And there are large."
After a first display at the Musée Cantini in Marseille, this second stage of the show at the Musée des Beaux-Arts de Dijon consists of two sections highlighting the artist's work. The first, L'oeil du labyrinthe (the maze's eye), takes a chronological and thematic angle to retrace the artist's career, from her figurative beginnings in Lisbon in the 1930s to the evanescent paintings of the 1980s. It follows Vieira da Silva's creative thread in order to highlight the extent to which her work comprises a reinvention of space. The second part, L'œil des collectionneurs (the collectors' eye) focuses on the artist close relationships with her patrons and friends, including the couple Kathleen et Pierre Granville. It is indeed thanks to this couple of art collectors that the Musée des Beaux-Arts de Dijon now beholds around forty artworks from Vieira da Silva, all exhibited on this occasion.
For the thirtieth anniversary of the death of this great artist, the exhibition at the Musée des Beaux-Arts de Dijon illustrates Vieira da Silva's important contribution to the reinvention of modern art, and the contemporaneity of the concepts she explored. This ambitious event, of international scope, aims to shed new light on the role of women in creation from this era.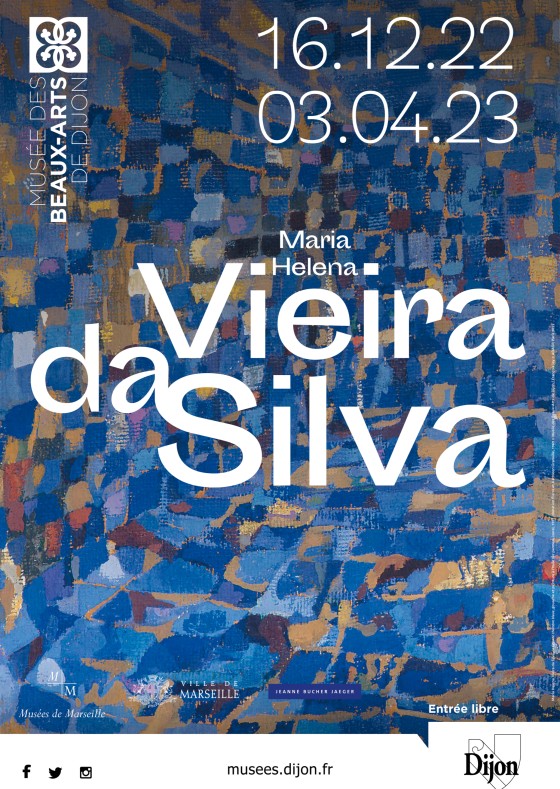 MUSÉE DES BEAUX-ARTS DE DIJON
1 Rue Rameau
21000 Dijon, France
---
Work on loan