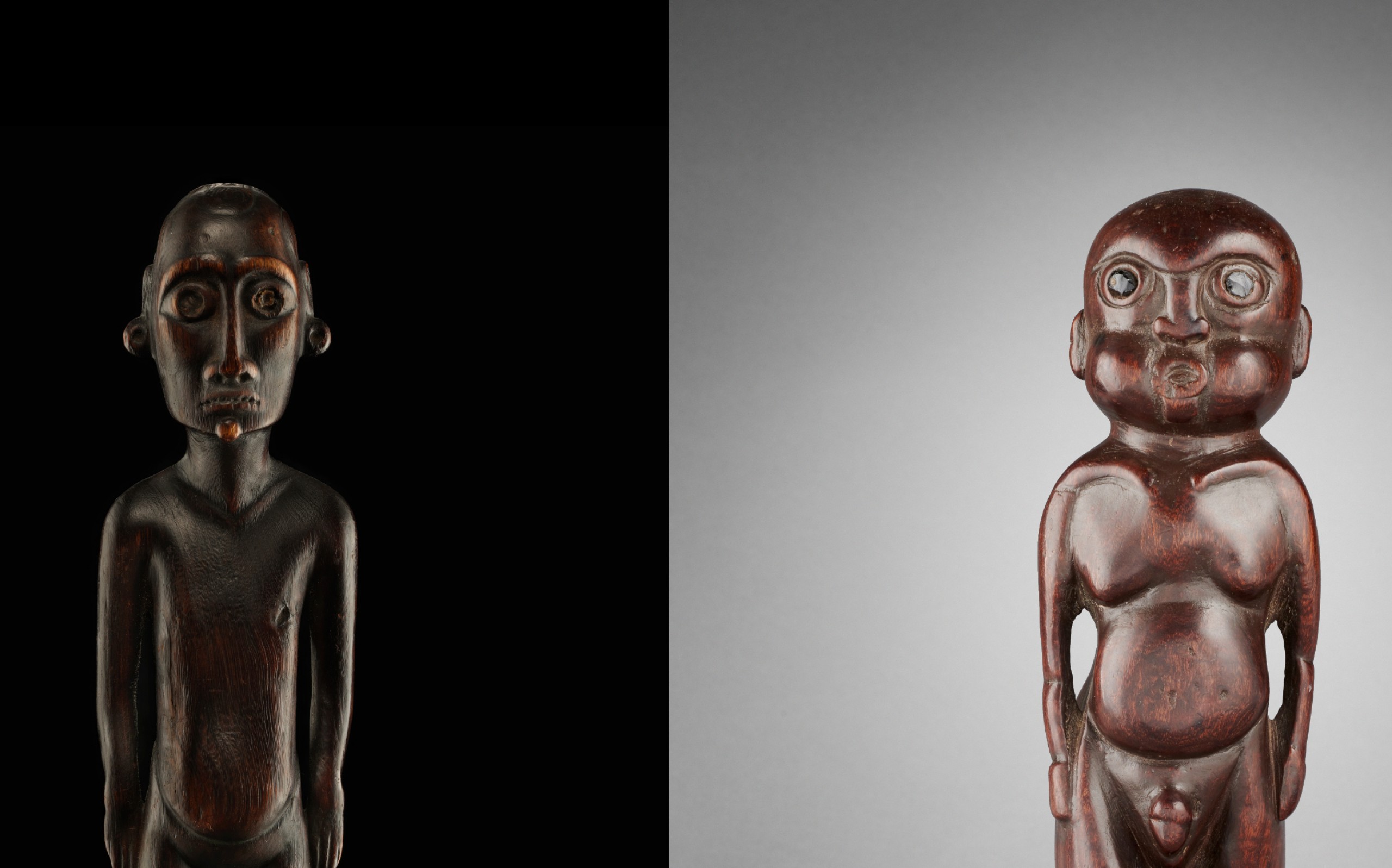 ---
May 2020 Ethnology
The wood that moai are made of: two figures from Rapa Nui
In this early year 2020, Rapa Nui is in the spotlight, with several publications and the exhibition Île de Pâques : le nombril du monde ? [Easter Island: navel of the world?] taking place until September at the Muséum of La Rochelle[1]. This is a good opportunity to present two recent acquisitions of the Fondation Gandur pour l'Art, both made of the same medium: the dense, shiny and divine wood of the Sophora toromiro.
[1] Île de Pâques, au-delà des fantasmes, Les Cahiers de Science & Vie, 191, March-April 2020 ; Adeline Aumont, « Île de Pâques : le nombril du monde ? », Tribal Art magazine, 95, 2020, p. 66-71 ; https://museum.larochelle.fr/au-dela-de-la-visite/autour-des-expositions/une/ile-de-paques-le-nombril-du-monde-284.
Moai tangata
Rapa Nui, early 19th century AD
Sophora toromiro wood, plant resin
30.3 x 8 x 5.5 cm
FGA-ETH-OC-0070
Provenance
Former collection Livio Scamperle Musina (1926-2008)
Then collection Eduardo Uhart, Paris, 1980s
Then Galerie Témoin, Genève
Then collection Jean-Louis Domercq, Genève, acquired in 1998
Acquired from the last collection, 9 May 2019
Unpublished
Moai tangata
Rapa Nui, mid-19th century AD
Sophora toromiro wood, obsidian, plant resin
21.5 x 6.7 x 6 cm
FGA-ETH-OC-0071
Provenance
Sotheby's London, 1968, lot no. 107
Then collection Carlo Monzino, Milan
Acquired at the Dorotheum, Vienna, 8 July 2019, lot no. 48
Previous publication
Charles W. Mack, Polynesian Art at Auction 1965–1980.
Tribal Art at Auction, I, Mack-Nasser Publishing, Northboro, 1982.