---
Museum Frieder Burda, Baden-Baden (DE) 17 October 2020 - 28 February 2021
SoulagesPainting 1946-2019
For over fifty years, Pierre Soulages, born in 1919, has been a major figure in non-figurative painting. Still active despite his advanced age, he is by far the most famous of French artists. This retrospective exhibition aims to show the remarkable consistency of his oeuvre in spite of its exceptional time span.
The works by Soulages exhibited here, on loan from private collections and European museums, in particular the Musée Soulages in Rodez and the Centre Pompidou in Paris, create a very special atmosphere in the light-flooded setting of the Museum Frieder Burda, this "white villa in the middle of a park".
CuratorS: Alfred Pacquement and Udo Kittelmann
From the start, Soulages opted for total abstraction, questioning the traditional elements of paintings. Through the materials he employs (walnut stain, tar, etc.), through his tools, often those of house painters, and his decision to identify his canvases by their technique, dimensions and production date, rather than by a title guiding one's vision, he has adopted a singular position since 1948, when he wrote: "A painting is an organized whole, an ensemble of forms (lines, coloured surfaces…) upon which our interpretations of it emerge and fall apart".
The exhibition opens with his early works dating from 1946-1948. It was in Germany, as Soulages often recalls, that "everything began". Indeed, his involvement in the travelling exhibition "French Abstract Painting" in 1948-1949, of which he was the youngest participant, and the selection of one of his paintings for the poster, were determining factors in making his work well-known at a very early stage.
The creative period that lasted until the late 1970s is characterised by large-scale works in which restrained colours sit alongside the pure black, as well as black and white paintings.
In 1979, Soulages embarked on a new phase in his work: paintings that constantly experimented with the relationship between black and light, for which he proposed the neologism of outrenoir, or "ultrablack". In contrast with a monochromatic work, "it is the differences of textures, smooth, fibrous, calm, tense or agitated, that, in capturing or blocking the light, bring out the grey blacks and deep blacks". Some of these spectacular and monumental works hang from the ceiling, as though suspended in mid-air.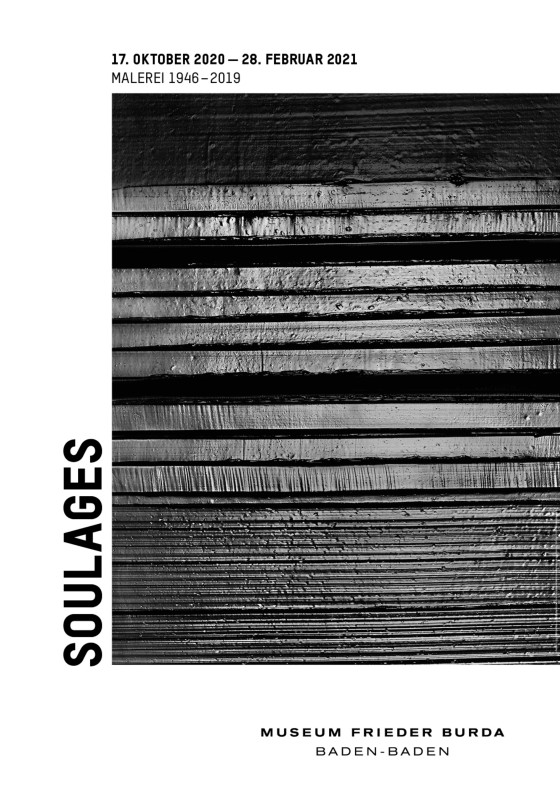 ---
Work on loan