---
Kunstmuseum Basel, Basel (CH) 25 March 2023 - 30 July 2023
Shirley Jaffe
Form as Experiment
Shirley Jaffe (1923 - 2016), an American painter who settled in Paris in 1949, is a referential figure in abstract painting at the turn of the 20th and 21st centuries. She claimed, provocatively, to have discovered Pierre Bonnard in New York, then Jackson Pollock and Andy Warhol in Paris. This exhibition at the Kunstmuseum Basel constitutes the second stage of her first retrospective after an initial show at the Centre Pompidou in Spring 2022.
Curators: Olga Osadtschy and Frédéric Paul
Arranged in chronological order, Shirley Jaffe, Form as Experiment presents her Abstract Expressionist beginnings, with bright colours worked in broad brushstrokes while the forms, which prefigure her future work, barely emerge from this pictorial space. From 1968 onwards, two radical breaks occurred in her work: she abandoned gesture and matter in favour of colour and geometry and started painting large canvases characteristic of maturity with their free, unified forms that clash and float on the incisive white of the surface. The exhibition also underscores the parallel path taken by her "gouaches" on paper, with their swift execution, unlike her paintings which pulsate like urban life but were always slow to reach completion.
Shirley Jaffe kept a "diary" for herself of her ongoing paintings. These precious studio notes and previously unknown archives shed a new light on her works.
The exhibition Shirley Jaffe. Form as Experiment is organized by the Kunstmuseum Basel in collaboration with the Centre Pompidou, Paris, and the Musée Matisse, Nice. The exhibition Shirley Jaffe. An American Woman in Paris was shown at the Centre Pompidou from April 20 until August 29, 2022. It will be on display at the Musée Matisse from October 11, 2023, until January 8, 2024.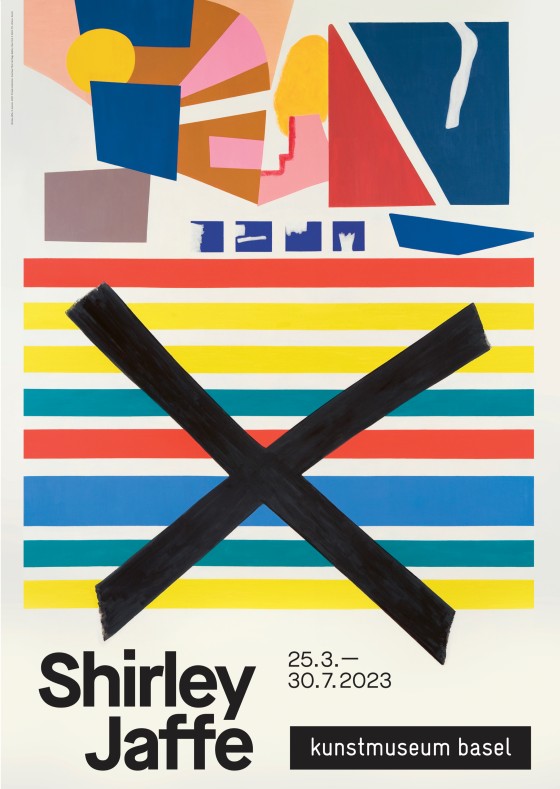 KUNSTMUSEUM BASEL
St. Alban-Graben 16
4051 Basel
Switzerland
---
Work on loan