---
Museum Barberini, Potsdam (DE) 4 June 2022 - 25 September 2022
The Shape of Freedom : International Abstraction after 1945
Supported by the Fondation Gandur pour l'Art, the exhibition The Shape of Freedom: International Abstraction after 1945 opens at the Museum Barberini. It focuses on the two most important currents of abstraction following World War II: Abstract Expressionism in the United States and Art Informel in western Europe. The Shape of Freedom: International Abstraction after 1945 is the first exhibition to explore this transatlantic dialogue in art from the mid-1940s to the end of the Cold War. The show comprises around a hundred works by over fifty artists including Sam Francis, Georges Mathieu, Ernst Wilhelm Nay and Judit Reigl.
Curator : Daniel Zamani
World War II was a turning point in the development of modern painting. The presence of exiled European avant-garde artists in America transformed New York into a center of modernism that rivaled Paris and set new artistic standards. In the mid-1940s, a young generation of artists in both the United States and Europe turned their back on the dominant stylistic directions of the interwar years. Instead of figurative painting or geometric abstraction they embraced a gestural, expressive handling of form, color, and material—a radically experimental approach that transcended traditional conceptions of painting.
Concurrently with Abstract Expressionism in the United States, artists in Paris and other European metropolises explored new materials, textures, and modes of composition. This new painterly approach was designated "Informel" due to its "formless," unbridled aesthetic.
West Germany likewise emerged as a center of European postwar abstraction from the mid-1950s on. As such, it cultivated close contacts with France and the United States. The exhibition documenta II in 1959 celebrated Art Informel and Abstract Expressionism as the manifestation of a new, universal visual language that would strengthen the political alliance of liberal western nations. In West Germany, radical abstraction was hailed as the new standard for avant-garde painting, in contrast to the Socialist Realism of East Germany or the aesthetic principles of the Nazi regime.
Abstract Expressionism in America and Art Informel in Europe have often been viewed as separate, independent developments—a geographical and cultural distinction that obscures the close connection between the two movements. The Shape of Freedom: International Abstraction after 1945 now highlights the intensity and enduring nature of this transatlantic exchange.
The exhibition also features works by lesser-known artists and foregrounds the long-ignored influence of women artists.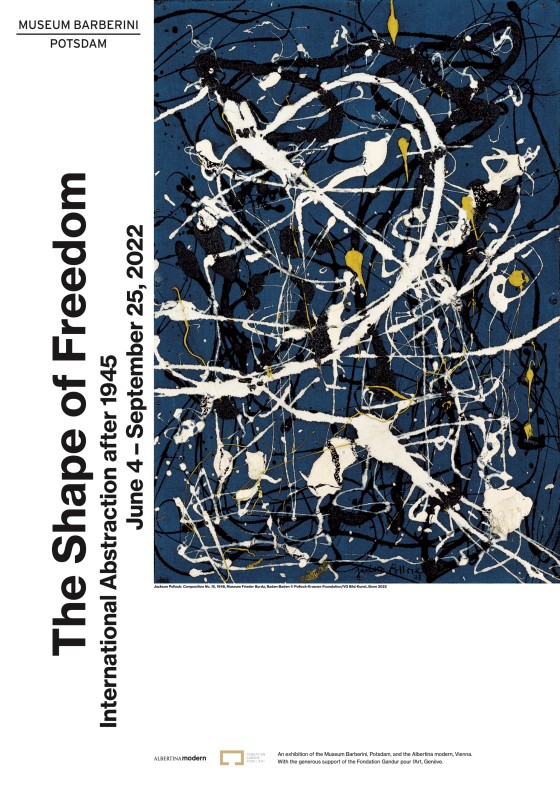 MUSEUM BARBERINI
Humboldtstraße 5-6
14467 Potsdam, Allemagne
---
Works on loan