---
Museo Nacional Centro de Arte Reina Sofía, Madrid (ES) 27th november 2021
Vasos Comunicantes. Colección 1881-2021.
Within the context of its partnership with the Museo Nacional Centro de Arte Reina Sofía established since 2015, the Fondation Gandur pour l'Art plays a role in the new presentation of the Museum's permanent collection, unveiled in November 2021, and entitled Vasos Comunicantes. Colección 1881-2021. Thirteen works from the Fondation's fine art collection have been lent to the Museum and can be seen in the Doble exposición: el arte y la Guerra Fría section.
Curator : Rosario Peiró Carrasco
The themed exhibition comprises some 2,000 artworks dating from the late 19th century to the present day. Their integration into the Museum's exhibits have allowed an exploration of new themes, such as migration, colonialism and ecology, as well as the representation of women. The place of architecture, photography and cinema within the collection has been reinforced, with hundreds of videos and photos on display throughout. The section entitled Doble exposición: el arte y la Guerra Fría offers an unprecedented interpretation of the artistic and cultural context of the Cold War, at a time when the United States sought to redefine geopolitical borders and attempted to extend its cultural hegemony beyond its borders. Artists and collectives were forced to find new means of disseminating their art as a form of resistance.
While Franco's victory in Spain staged a return to order and signalled the beginning of years of isolation and repression, ships crammed with Spanish exiles reached the new continent in a journey harking back to the Conquest of the Americas. For many artists, exile was a way of questioning categories of thought and contributing to culture's most radical experiences and discourses. Conscious of culture's potential, the two opposing sides of the Cold War used exhibitions to develop a new geopolitical framework, while artists and collectives employed them as a means of resistance. From the 1960s onwards, within the context of political reform and a new economic openness, Franco's Spain adopted the triumphant discourse of XXV años de paz (25 Years of Peace), which nevertheless failed to convince exiles and growing Anti-Franco collectives alike.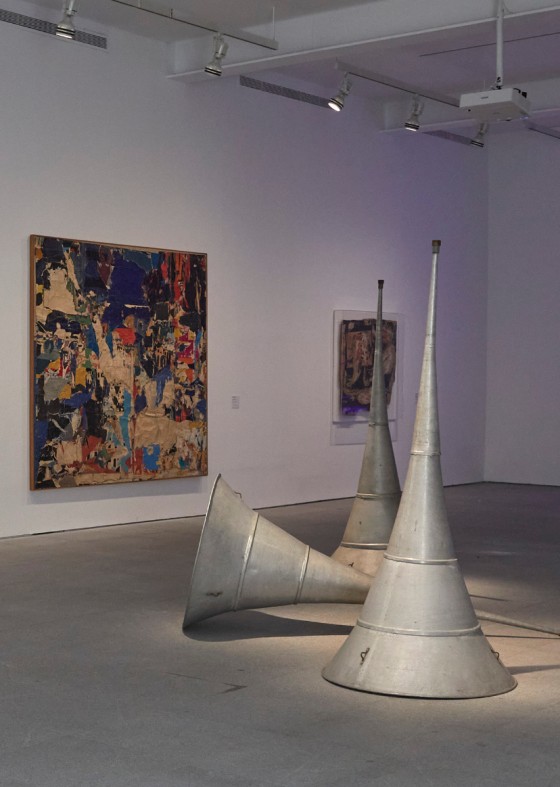 Works on loan